Skilled Nursing
More information about this is coming! Please check back soon!
Talk To a Care Coach!
Get a Free, No-Pressure Consultation Today:
Our Services
Testimonials
I am extremely happy we found ThriveUSA and Danny, in particular! I feel that much of the burden and worry about my brother has been lightened significantly knowing that Danny is with him twice a week and is helping him get things done. ThriveUSA provides very personalized services to not only help with errands and chores, but to make everyday life easier and better for my brother. Reliable assistance, a genuine caring attitude, helpful suggestions, and personal involvement – all of these attrib…
Rhonda B.
Family Caregiver
News, Tips, and Updates in Senior Care
People enjoy having a purpose. Seniors, though, often...
[More]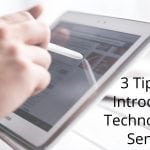 You know the benefits of using technology -...
[More]