6 Easy Ways for Seniors to Stay Active Indoors
The weather outside may be frightful — but that doesn't have to make your winter any less delightful! The winter season in Maryland and the Washington, DC area has been unpredictable, with shifting temperatures, snow, and rain. It may be frustrating for seniors and family caregivers to not know what a winter day will bring. Exercising outside in the cold weather might be uncomfortable, and getting to the gym may be difficult due to COVID-19.
However, it is easy to be active throughout the winter, and it does not involve enduring frigid temperatures or planning around the setting sun. Best of all, these indoor activity ideas are easy enough to apply throughout the year.
Here are six suggestions for staying active indoors:
Walking
Walking is a low-impact and simple approach for people of all ages to keep mobile and active. Walking has the following health benefits: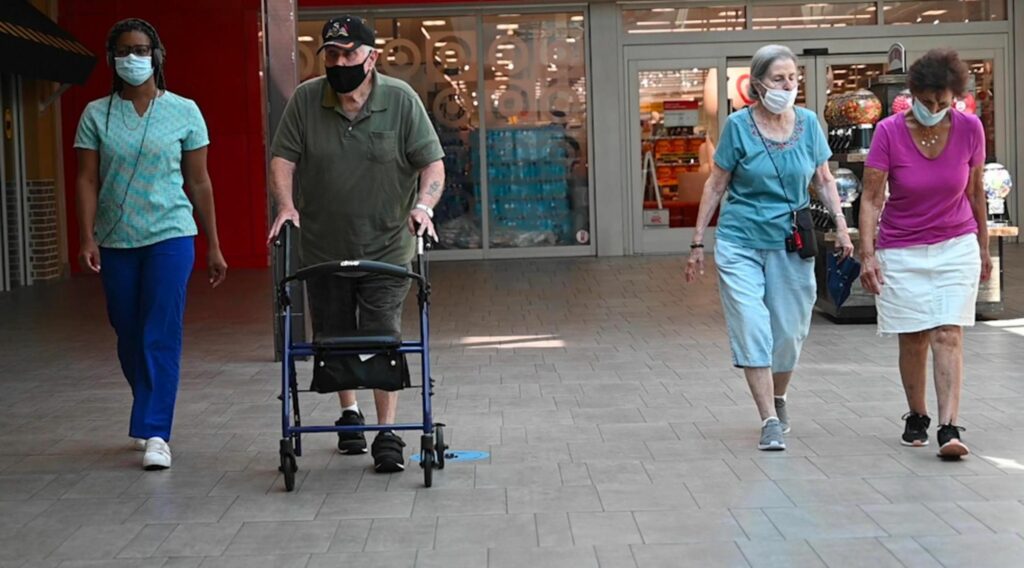 Improved cardiovascular health.
Stronger bones, joints, and muscles.
Maintenance of a robust immune system.
Better sleep habits.
Improved mood.
Walking is one of the best indoor hobbies for seniors even when it's too cold outside. Encourage your loved one to take a few walks around the house, or take them to your local mall for a stroll through the Great Indoors (with shopping perks!).
Do Housework
Housework is an excellent way for seniors to be active throughout the winter. Cleaning can help older adults retain their health and independence by burning up to 300 calories each hour. Seniors who perform their own chores had increased brain capacity in both the frontal lobe and the hippocampus, according to research. Seniors who clean may stay sharper as they age since these parts of the brain are important in learning, memory, and cognition. Chores are also beneficial to the heart and can enhance flexibility and mobility, allowing seniors to age in place successfully.
Dance
A lot of people like dancing. Play some music and encourage everyone – even family caregivers and grandkids – to show off their moves if your senior loved one is up for it. Dancing is a great way to get some aerobic exercise while also stimulating a variety of body parts. It enables older adults to raise their heart rate, stretch their muscles, gain strength, and increase flexibility while doing something pleasurable and not boring.
Lift Weights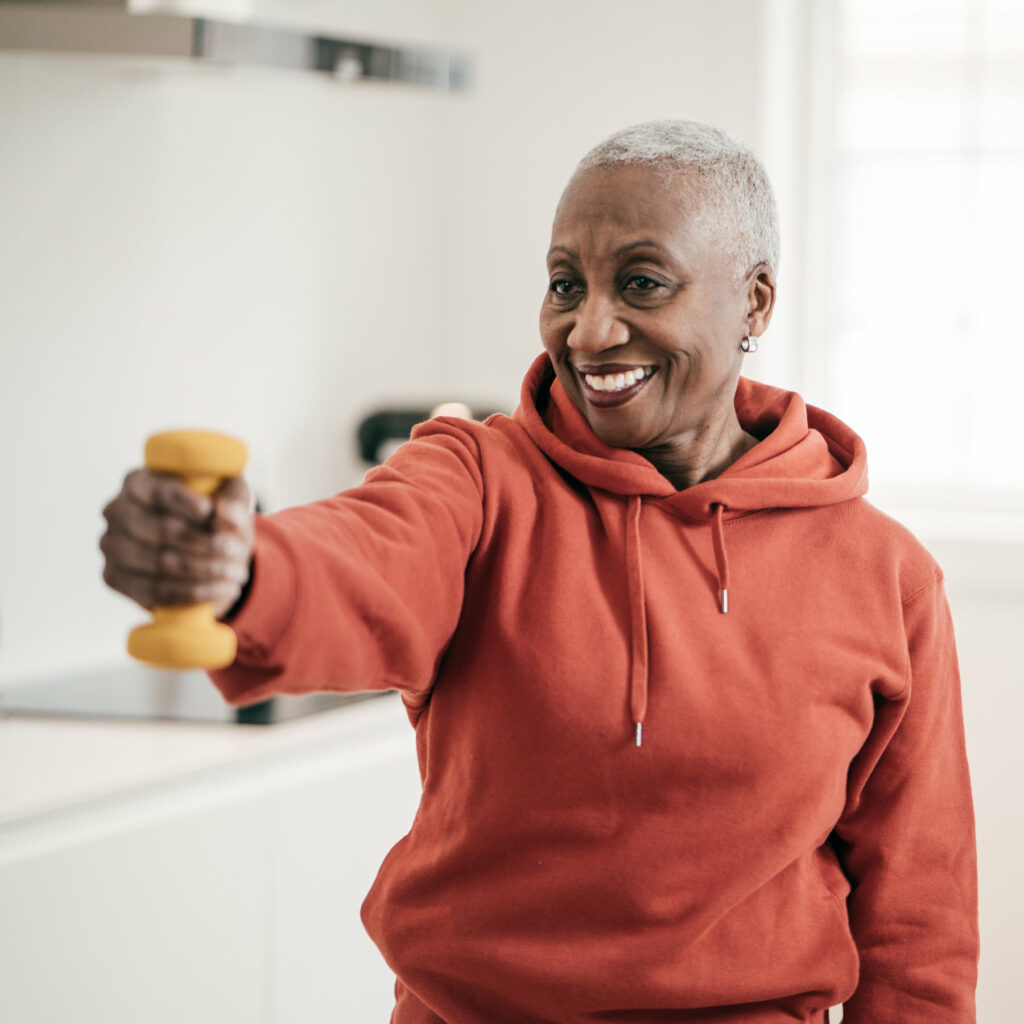 Bodybuilders aren't the only ones that benefit from weightlifting! Strength exercise can help seniors gain muscle mass, lower their risk of osteoporosis, enhance their mood, and even sleep better. Lifting weights is safe for seniors as long as a doctor approves it. The trick is to begin slowly. Work out only two or three days a week in the beginning, and use light weights. To minimize injury, seniors should also ensure they are utilizing good techniques, which they may acquire by working with a personal trainer or viewing workout videos.
To start, here are some easy weightlifting exercises:
Bicep curls
Dumbbell lunges and squats,
Overhead press
Lateral raises
Try Chair Yoga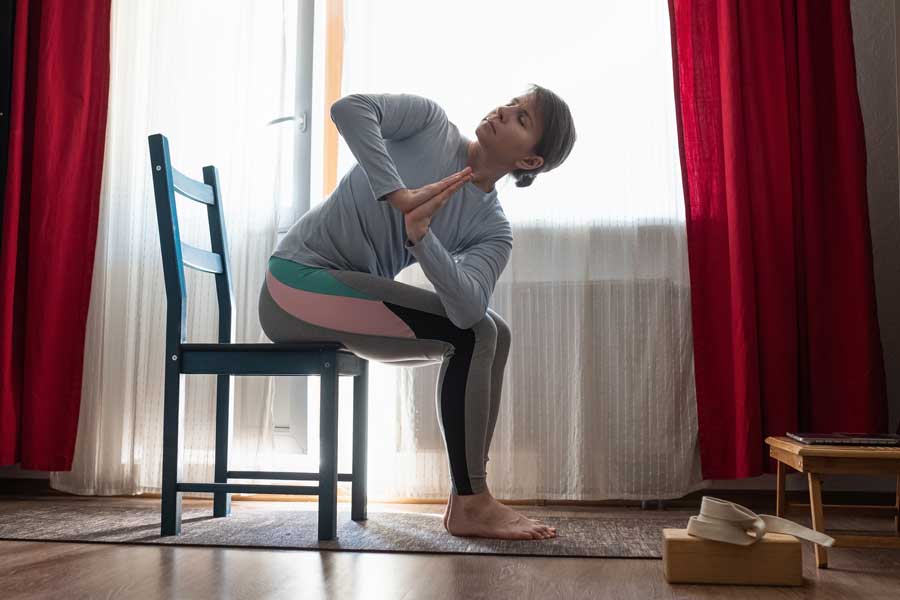 Chair yoga provides all of the advantages of conventional yoga while being easier on the joints. Chair yoga for a few minutes each day can help them improve flexibility, boost circulation, and manage chronic pain.
Here are some easy positions to try:
Seated Overhead Extend – Slowly stretch your arms toward the ceiling, hold for a minute, and then return your arms to your sides.
Seated Forward Bend – Bend forward as far as you can without straining your neck and back. Hold the position for a few seconds before returning to an upright position. There are several videos available online that might assist your loved one in learning new poses.
As they progress in their yoga practice, they will be able to do standing poses with the assistance of a chair and use strength-building supports such as yoga straps and blocks.
Ride a Stationary Bike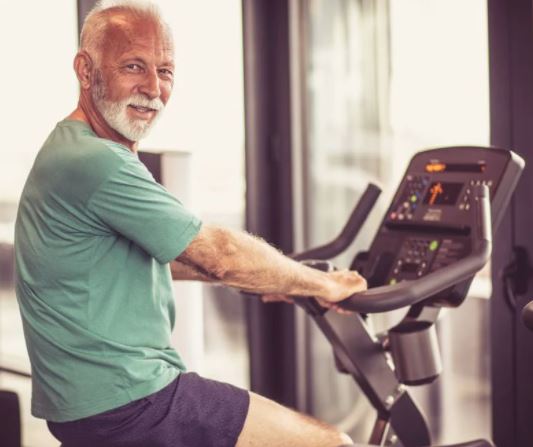 Although it's too cold to go on a bike ride outside during the winter, seniors can get a similar experience by using a stationary bike indoors. Researchers have found that indoor cycling is just as good for you as riding a regular bike outdoors.
Indoor biking can also boost heart health and increase muscular endurance without putting stress on the joints. So it may be a good choice for seniors who want to stay active but have trouble walking due to chronic pain.
Looking for assistance in providing your senior loved ones with the individualized care they need to flourish during the cold days of winter? Do you have any concerns regarding how to keep your loved one safe and healthy while being active and independent all year? We're here to assist you!
Our goal at Thrive USA Homecare is to assist seniors in living independently and with dignity in the comfort of their own homes by empowering them to enjoy an active and fulfilled lifestyle, connecting them with their community, and developing meaningful relationships.
If you have any questions about how to help the seniors in your life have fun and stay active while they age in place, please contact us online or call us at (301) 882-4717. We're here to give advice and assistance in any way we can!