Understanding VA Benefits for Homecare
Many individuals are aware that the United States Department of Veterans Affairs (VA) provides comprehensive health care benefits to veterans (VHA). But did you know that in-home care is included in this basic medical coverage package? Continue reading to learn how veterans and their caregivers may benefit from the VA's homemaker and home health aide program.
With our Veteran home care services, Thrive USA Home Care can assist older adults who are US Veterans in Frederick, Montgomery, Carroll, Howard, and Baltimore Counties and the surrounding areas. Any Veteran that can receive VA health care services can qualify for the Care in the Community Program and have the VA pick up some or ALL of the expense for Homemaker assistance.
Many elderly people in the United States have served in the United States military services and may be eligible for VA benefits to help pay for in-home care. As the current generation of seniors reaches the point where they require care and support in their daily life, an increasing number of them prefer to receive care at home rather than in a nursing home or assisted living facility.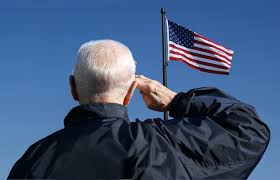 Requirements for VA Paid Home Based Personal Assistance
A veteran must fulfill three general eligibility criteria in order to receive home care from the VA.
Enrollment in VA Health Care Benefits
First, a veteran must be qualified for VA health care benefits. Most veterans who served in the active military, navy, or air service and were not discharged dishonorably are eligible for the VA's standard medical benefits package. Long before the need for in-home care arises, most senior veterans have sought for and received VA health care benefits.
Each applicant is assigned to a priority category by the VA based on their military service history, a disability rating, income level, and whether they qualify for/receive additional benefits (e.g., Medicaid, VA pension, disability compensation). The priority group given to a veteran determines how quickly they are enrolled in health care coverage and how much (if any) they must pay toward the cost of their treatment. "We assign Veterans with service-connected impairments the greatest priority," according to the VA.
Eligibility for Community Care Services
Next, a veteran who has signed up for VA health care must also be eligible for community care. Only one of the six enhanced eligibility requirements introduced by the VA MISSION Act of 2018 must be satisfied for a veteran to be eligible for community care. One requirement for qualifying is that "no VA facility provides the hospital treatment, medical services, or extended care services required by the veteran."
The HHA Program is unusual in that these long-term care services are only offered by non-VA providers in the community (public and private home care agencies). Because the VA does not directly provide homemaker or home health aide services, any veteran who seeks them automatically qualifies for community care.
Clinical Eligibility for H/HHA Services
Finally, a veteran must show a clinical need for HHA services. Their VA primary care practitioner or a geriatrics care team will conduct a complete examination to determine their level of dependency on activities of daily living (ADLs) and instrumental activities of daily living (IADLs), among other things (IADLs).
A veteran fulfills the clinical qualifying requirements for the VA Homemaker/Home Health Aide Program if their assessment identifies the following:
Dependencies in three or more ADLs; or
Significant cognitive impairment; or
Dependencies in two ADLs and the veteran meets any two of the following conditions:

Has dependencies in three or more IADLs;
Is 75 years old or older;
Has been diagnosed with clinical depression;
Lives alone in the community;
Has been recently discharged from a nursing facility, or has an upcoming nursing home discharge plan contingent on receipt of home and community-based care services;
Has demonstrated high use of medical services defined as three or more hospitalizations in the past year or has utilized outpatient clinics or emergency evaluation units twelve or more times in the past year.
The official evaluation findings agreed on objectives of care, and recommended type(s) and length of treatment will be documented on VA Form 10-0415, Geriatrics and Extended Care (GEC) Referral. If a veteran satisfies all of the above requirements, the VA primary care practitioner will order the necessary H/HHA services, as well as perhaps other services to augment this care. Keep in mind that even if a veteran does not precisely fulfill the requirements outlined above, he or she may be able to establish a clinical need for in-home care and get an order for services.

Services Available Through the VA Home Care Program
The HHA Program may entail assistance with a variety of everyday chores to support veterans in continuing to live comfortably and independently in their own homes.
Light housekeeping is necessary to maintain a safe and sanitary environment in the areas of the home used by the patient
Laundering is essential to the comfort and cleanliness of the patient
Meal preparation
Grocery shopping
Escorting the patient to necessary appointments
Ensuring patient safety
Home Health Aide Services (Help with ADLs or Personal Care)
Bathing
Toileting
Eating
Dressing
Ambulating or transfers
Active and passive exercises
Assistance with medical equipment
Routine health monitoring
In-home care benefits more than just veterans; it also gives valuable respite time and peace of mind to their family caregivers. These programs can be utilized in tandem with others, such as adult day care, to relieve the caregiving load on family members and delay or prevent veterans from entering nursing homes.
Call Thrive USA for VA Home Health Care
At Thrive USA Home Care, we provide VA home health care and respite care services in Maryland and D.C. for veterans of the armed forces who are eligible for VA pension benefits. Eligible veterans will receive home care from our licensed, professional caregivers and put their VA benefits towards the cost of care. If you or a loved one may be eligible for VA pension with Aid and Attendance benefits and needs home care, give us a call at Thrive USA Home Care. We can work with CPI to help you obtain your benefits and provide home health care that can be covered by these benefits. You can reach us at (301) 882-4717