4 Benefits of Meal Prep for Seniors
Meal prepping is the process of cooking many meals in one sitting so that they are readily accessible when a person becomes hungry.
Meal preparation can theoretically be any kind of cooking, but it is typically used to cook nutritious and enjoyable meals. The person would most usually prepare three or four meals in one sitting when meal prepping, however, he or she may opt to do more or less depending on their needs and preferences. Meal planning can assist a person in losing weight, adhering to an eating schedule, or merely preparing simple and nutritious meals.  There are a few different ways to put a meal prepping or planning strategy in place. Here are a few tips and benefits to help you get started:
Always have a Meal Ready
Assembling food from the fridge or pantry, grabbing pots and pans from the shelf, and preparing a meal from scratch are the most difficult tasks for many older adults to overcome. Cooking can be put off if it seems to be too much hassle to do alone. Similarly, many seniors who live alone may not want to go to the trouble of cooking lavish meals if they feel they would be eating alone.
Your senior loved one will always have a supply of home-cooked food ready to heat and consume with pre-made meals. With all of the work already completed, eating regularly – and getting the nutrition they need – might just start to look a lot more appealing to seniors who might otherwise skip a meal or two.
Save Time & Money
One significant benefit of meal planning is that it gives you and your senior loved one much more control over when and how they eat. As a result, you will use this plan to save both time and money. When you meal plan, it's much cheaper to shop in bulk, which will help you save money on your weekly or monthly food budget. Similarly, meal prepping may take a couple of hours per week to prepare, clean, and shop – so it may free up a few hours per night that would otherwise be spent creating and cooking a meal.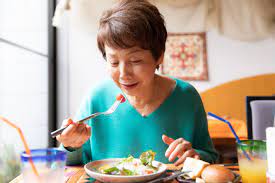 Enhance Quality of Life
Our goal is to improve the quality of life for your elderly loved one. According to studies, older people who eat with others consume more food and healthier products than those who eat alone. Furthermore, the advantages of a nutritious diet for seniors can include improved mental alertness, resistance to sickness, quicker recovery from injuries, and increased energy. We will provide stability, consistency, and companionship in the dining process as our caregivers cook meals for clients or for them in their homes.
Right-Sized Portions
One of the most tangible benefits of meal prepping is the ability to prepare well-portioned servings of food. You can modify the serving sizes to fit your loved one's tastes and needs, such as including more nuts and avocados if they need more nutrition, or more leafy greens if antioxidants are more essential. Depending on your loved one's habits and appetite, you can make portions bigger or smaller. Whatever techniques you use, getting these packaged meals on hand is a perfect way to inspire your loved one to enjoy more balanced portions and cut down on food waste.
Thrive USA Homecare is committed to providing in-home care for our Maryland clients and their families with honesty, effectiveness, and compassion. It's what we'd like for our own parents and grandparents, and we think your loved ones are entitled to the same. We provide a wide range of personal care and daily life programs, including the whole meal planning process, such as:
Assistance with meal planning
Cooking diet-specific recipes
Grocery shopping (with or without clients)
Maintaining running grocery list
Preparing meals together or on our own
Kitchen and home cleaning
Preparing extra meals for the freezer
If you need meal delivery or other everyday living treatment for an elderly loved one, we will be delighted to assist you. Please contact us to set up a free consultation for your Maryland family.