6 Fun Spring Activities for Seniors
The spring months bring about warmer temperatures and the opportunity for seniors to enjoy a variety of outdoor activities. The days are getting longer and warmer and you may be feeling energized by the change in weather.  So how can you make the most of the warmer weather? Here are some suggestions to get you and your loved ones outside this spring!
Take Up Gardening
Gardening is a fantastic way for seniors to get some vitamin D and reduce stress. Your loved one can build muscles, develop skills in critical thinking, and take in the beautiful spring air while planting vibrant flowers, healthy foods, spices, and other things. Another advantage of gardening is that it can help elders burn calories as they pull weeds and plants. Gardening requires a variety of physical motions, such as bending, squatting, and stretching. Seniors can create wholesome meals using the vegetables and herbs they cultivate in their gardens with the assistance of home caregivers.
Some seniors require occasional help around the house, and frequently the family members who look after them need time away to run errands, rest, go to work, or go on vacation. Mayland respite care specialists from Thrive USA Homecare are on call as needed, providing your family peace of mind that your loved one will stay safe and comfortable while you unwind or attend to other commitments.
Go For a Walk
When spring comes, your loved one can take a peaceful walk in the neighborhood after spending the majority of the winter indoors due to the cold, snow, and other weather conditions. Walking is a great method to keep active and strengthen your bones. Going for a walk in the pleasant springtime weather may help your loved one unwind and think about things that are uplifting rather than stressful or blood pressure-raising activities. Seniors can improve their quality of life and maintain their physical and mental activity by participating in enjoyable outdoor activities.
Receiving expert home care can help seniors in many different ways, including maintaining their health as they age. Thrive USA Home Care is available to assist your loved one with everyday tasks, illness prevention, and focusing on living a better and more rewarding life.
Attend a Farmer's Market
Check out the fresh flowers and veggies at the local farmer's markets. Bring some fresh flowers home to brighten your living area, or discover a new way to cook a vegetable. Think about inviting some friends or neighbors over for a picnic to show off your fresh finds at the neighborhood farmers market!
Enjoy a Picnic
Bring your food outside to enjoy as part of a picnic. Bring a blanket, some food in a basket, playing cards, and something to do after the meal. A picnic is fantastic since you can travel close to or far depending on your loved one's preferences. Just to get outside, you can have a picnic in your senior loved one's backyard, or you can travel to a public park and eat on the grass there.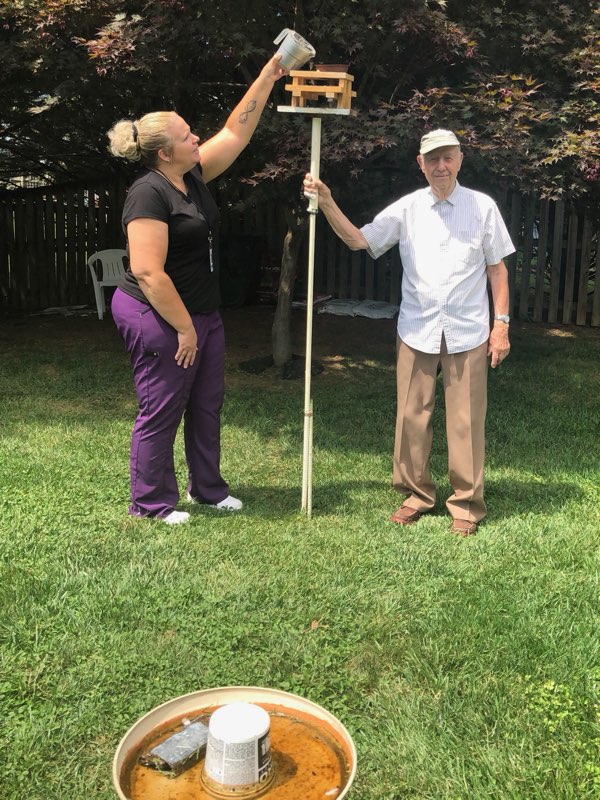 Spend time with Grandchildren
Spring is a great time to revisit your own youth with your grandchildren! Fly a kite, discover a new park, make drawings with sidewalk chalk, play catch, or pass a soccer ball. You'll enjoy the weather, spending time outside, and making special memories with the people you care about.
Feed Birds
Bird chirps are the quintessential sign of spring. Spend the day bird watching or purchase bird feeders to hang outside and attract the birds to your front porch. Make it a hobby to learn more about your new visitors and look for them in nature.
Get Help from a Thrive USA Caregiver
There should be no problem finding things to do in the spring as there are a seemingly limitless number of enjoyable activities for seniors. Finding someone to look after and accompany your senior loved one while participating in such activities, however, can be challenging. Oftentimes, older individuals need some form of elderly care services at home as well.   Due to their own obligations in their personal lives and careers, family members are not always available to keep an aging relative company and give care. Thrive USA Home Care can help!
We offer home care services at Thrive USA Home Care to help seniors with daily activities. With these home care services, we will provide your elderly loved one with a well-trained, experienced, quality caregiver to handle their care needs. Our caregivers are more than just that; they will also be companions to your loved ones. Our caregivers will partake in fun activities with your elderly relatives and they can even provide transportation if needed.